'Multiple sources' identified bodies, Army general says
BAGHDAD, Iraq (CNN) --Ousted Iraqi leader Saddam Hussein's sons, Qusay and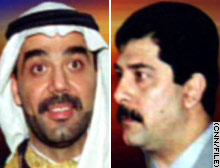 Uday, were killed Tuesday in a gunbattle with U.S. troops in the northern Iraqi city of Mosul, the commander of U.S. ground forces in Iraq said.
Their bodies were identified from "multiple sources," Army Lt. Gen. Ricardo Sanchez told reporters in Baghdad.
"They died in a fierce gunbattle," Sanchez said. "They resisted detention and the effort of coalition forces to apprehend them."
When asked whether the $15 million bounties on both Uday and Qusay will be paid, Sanchez said, "I would expect that it probably will happen."
Uday, 39, and Qusay, 37 -- key members of Saddam's regime -- were among four people killed during the battle.
Sanchez said U.S. forces learned about the whereabouts of the brothers from a walk-in Iraqi tipster Monday night.
Sanchez said the 101st Airborne Division, Special Forces and Air Force assets participated in the six-hour operation on a residence near the northern edge of the city. (Map)
A military task force formed to hunt for Saddam and his top supporters led the raid, supported by extensive armor and air cover, officials said.
Two-hundred members of the 101st Airborne Division also joined the assault, and no one was captured, a U.S. official told CNN Pentagon correspondent Barbara Starr.
The military went in and engaged in a "big firefight," the official said. (Gallery: The firefight scene)
A senior Pentagon official said one of the other two bodies appeared to be that of a teenage boy. U.S. officials noted that Qusay has a teenage son. The other body recovered appeared to be that of a bodyguard.
A U.S. official said Saddam was not among them.
U.S. Defense Secretary Donald Rumsfeld briefed President Bush about the Mosul operation after it was over, a senior defense official said.
"Part of the reason he discussed this operation in particular was because he knew it would get a lot of attention, and that first reports are often wrong," the official said.
The initial White House reaction was cautious, though one official said confirmation that the two sons were killed would "brighten" spirits after recent criticism that the Bush administration exaggerated the former Iraqi regime's threat.
Both in deck of cards
Saddam and his sons have been fugitives since their government collapsed after a U.S.-led invasion in March. (Profiles: Qusay Hussein, Uday Hussein)
Mosul is a Kurd-controlled city about 110 miles [176 kilometers] from both Syria and Iran. Intelligence officials said they are investigating whether Uday and Qusay were attempting to find a way out of Iraq.
Retired Army Brig. Gen. David Grange said the deaths of Uday and Qusay would deal a psychological blow to Saddam loyalists attacking U.S. troops.
The hunt for Saddam in Iraq is led by a U.S. Special Operations team -- code-named Task Force 20 -- with support from the CIA. The task force, which also took part in the rescue of Army Pfc. Jessica Lynch, includes covert special operations forces from the various U.S. military services. (Lynch homecoming)
Qusay and Uday are the second- and third-most-wanted Iraqi leaders, and both are in the card deck of most-wanted Iraqis issued to U.S. troops in Iraq. Uday is the ace of hearts and Qusay the ace of clubs. (Flash interactive: Iraq's most-wanted)
Qusay has been the son widely perceived as most likely to have succeeded Saddam.
With Iraq preparing its defenses in the run-up to the war, Qusay was put in charge of four key areas, including Baghdad and Tikrit -- his family's tribal home.
When the war began, he was in charge of the country's intelligence network, the 80,000-strong Republican Guard and 15,000-member Special Republican Guard, which was responsible for protecting Saddam and his family.
Uday has a reputation for violence that included torturing Iraqi athletes who did not meet expectations. He ran the dreaded Saddam Fedayeen security force.
He was also in charge of the nation's Olympic committee, edited a leading newspaper, Babel, and was head of Youth TV, the country's most popular channel.
Just before the war, Uday warned that Iraqi troops would make the mothers of U.S. soldiers "weep blood instead of tears."
Correspondents Rym Brahimi, David Ensor, Jamie McIntyre, John King, Barbara Starr and Harris Whitbeck, and producers Pam Benson and Kevin Flower, contributed to this report.